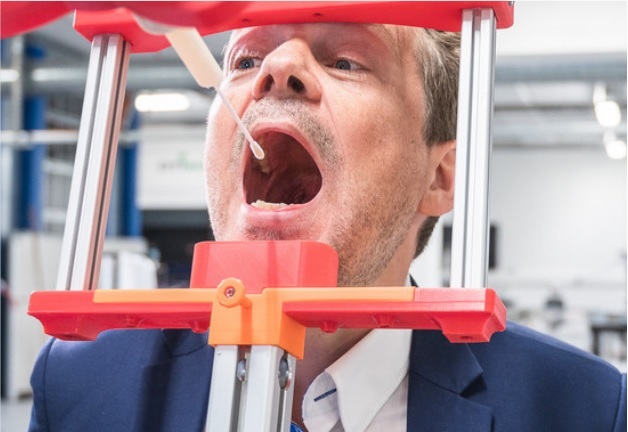 The first coronavirus "swab robot"
One day in spring, as the Covid-19 pandemic soared across Europe, a robotics professor from the University of Southern Denmark and a doctor from a local hospital came up with what seemed like a wild idea: What if they could develop the world's first swab robot to test patients for Covid-19? The robot would enable large-scale testing, and keep medical staff safe. But they would need to move fast.
Four weeks later, the professor and his team had finished a prototype and secured three patents. The university had also founded a new company to take the robot to market in record time, supported by a consortium of private investors. The setup is simple: after scanning their ID card, the person to be tested approaches the robot and opens their mouth. A robotic arm with an attached cotton swab takes the sample and places it in a container, and the sample is then sent to a lab for analysis. The first swab robots are expected to be used in Danish hospitals by the end of June.
Taked from: https://www.weforum.org/agenda/2020/06/first-swab-robot-can-teach-about-fast-innovation-covid-19/